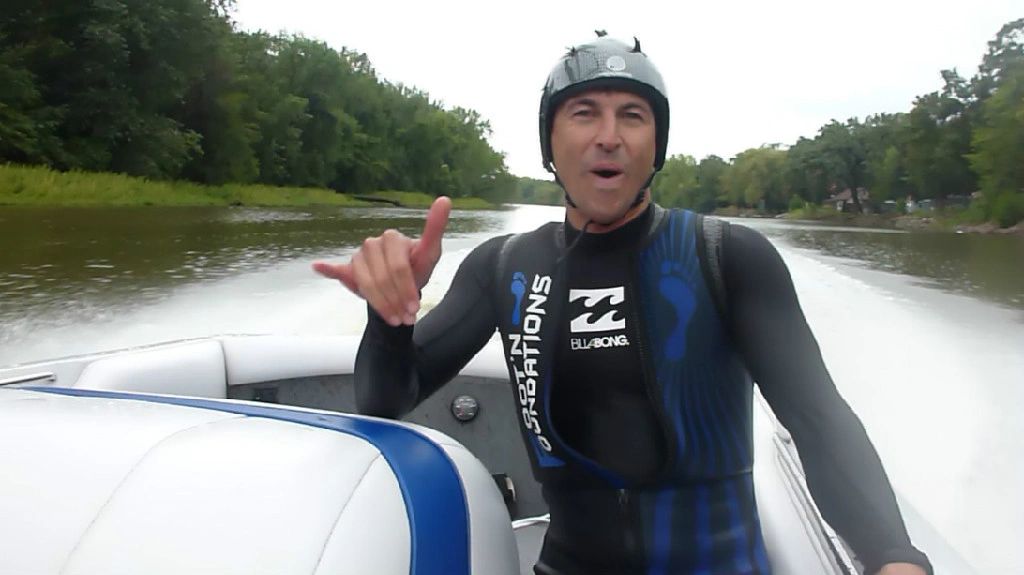 Foot'nfoundations goes international!
I received an email in early june from a gentleman from Barcelona that was to be touring the USA for a few weeks(Chicago, specifically). His name is Joan-jordi Arno, and he was particularly interested in learning how to Barefoot waterski. He noted that he was an avid water person i.e. Wakeboard, slalom, kite- surfing and windsurfing. All of his waterski experience has been via a cable park or skiing on the Mediterranean. He states that there is no motorized lake acess, so barefooting is out of the question in Spain. I followed up his email and set up a date for him to attend the school for a day.

To say I was a bit nervous is an understatement. Although I believe in my abilities, I was concerned about communicating with my Spanish friend.

As it turned out, Joan-jordi is very well versed in english and we had no problems at all. In fact, it was an absolute blast!





Joan-jordi, showed up as scheduled, with his lovely wife, and we set out to make his dream come true. Our summer in wisconsin had been one of the hottest on record. Go figure, this day was cloudy drizzly, and about 71 degrees. It mattered not one bit to Joan-jordi-he was on a mission.

We started his lesson off with some extensive dryland practice, making sure he understood the mechanics of a basic deepwater/cable start, three point and stand -up. We hit the water about 10:00 am and immediately got at it. Joan-jordi did remarkably well on his first attempt, and I immediately knew we had a winner.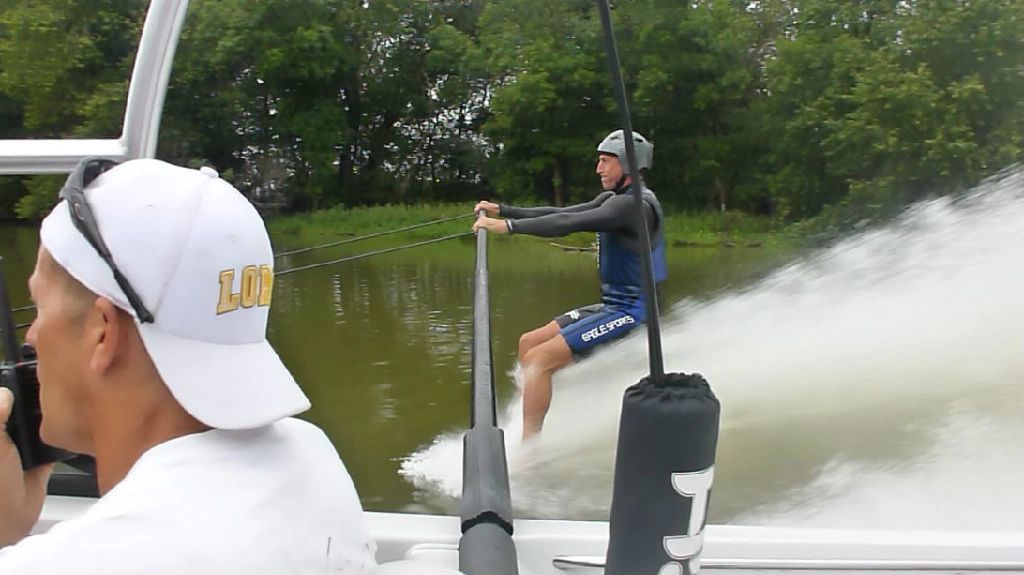 I can't tell you exactly how many attempts it took the worlds newest barefooter, but it was'nt many. The excitement and enthusiasm that Joan-jordi portrayed is what this teaching gig is all about. I feel extreme happiness and reward just from the many smiles and thank you's I receive.

I not only had the pleasure of helping another person fulfill their dream, but I made two awesome new friends in the process!

Thanks Joan-jordi! You are truly, full of life!
Headzone helmets!

Headzone is an instructor to skier audible helmet that allows us to talk to you instead of yell. This is rather significant for a few reasons. 1: It allows the skier to stay focused on the task at hand instead of trying to interpret a hand signal or comprehend what I am yelling at you.. It also allows the instructor to explain to the student how their current run went on the way back to picking up the skier, instead of having to wait until I get to you. 2: It also provides some protection, particularly for backward falls. The helmet fits snug and offers no tugging or bucketing of water. I can't tell you how excited I am about having these helmets as a new training tool...

Come try 'em out!
2008 Coaches Of The Year Selected
· Posted by: usaws
· On: 11/24/2008 09:04:37
· In: USA-WS
Brandi Hunt (Clermont, Fla.), Gary "Swampy" Bouchard (Winter Haven, Fla.) and Ken Kaestner (Jefferson, Wis.) have been selected USA Water Ski's 2008 Coaches of the Year. Hunt was named National Coach of the Year; Bouchard was named Developmental Coach of the Year; and Kaestner was named Volunteer Coach of the Year. All three coaches, who were selected by members of USA Water Ski's Awards Committee, are now eligible to receive the United States Olympic Committee's Coach of the Year awards in their respective categories.
"I commend Brandi Hunt, Gary Bouchard and Ken Kaestner for displaying excellence in coaching and devoting countless hours to the sport," said Steve Locke, USA Water Ski's executive director. "Water skiing could not be where it is today without the support and dedication of these fine coaches."
Hunt was the coach of the Under 13, Junior and 17 to 20 Water Ski Teams that participated in the 2008 Pan American Water Ski Championships in Medellin, Colombia. All three teams won overall team gold medals at the biennial event. Bouchard has coached Keith St. Onge, the current world barefoot slalom, tricks and overall champion, and USA Water Ski's 2008 Male Athlete of the Year.
Bouchard also has worked closely in the development of A.J. Porreca and Jamie Kumlien, who were both selected to the 2009 U.S. Junior Barefoot Water Ski Team.
Kaestner has had a hand in coaching some of the most successful skiers at the Barefoot Nationals, including U.S. Elite Barefoot team member Laura Szwed. Kaestner has proven to be a highly dedicated athlete and instructor with the ability to motivate his students. He has played a major role in many careers contributing a great amount of effort and time into the sport.
Alex Younblood, from Highland Michigan, wins the 2009 Foot'nfoundations challenge and receives a jr. toe handle.


When I first met Alex at the 2008 midwest regionals she was 6 years old and had a passion for barefooting.Coming from a waterski family, and daughter of open tricker, Jim younblood, she was already ahead of the game.

While in Michigan last summer to ski their state tournament I had a chance to witness Alex do a dolphin start on the 1' extension.... perfectly! Needless to say, I was amazed. The funny thing was, she would drag on her stomach and do a dolphin start, but didn't want any part of a traditional deepwater.

After the tournament I stayed in Michigan to do a clinic at the Szwed's. I was told Alex would be attending and I was excited to have her come out. During her time on the water I had her do a few cable starts and a boat load of sit-down stand-ups to get her familiar with what she'd be feeling on a deep start. Near the end of the day I was successful in convincing her to at least let me power up and drag her in the deep position, on the 5'. Although unsuccessful on the start, I believe it was a breakthrough for Alex, in that , she now knew she could do it.

After the clinic, while at the Midwest regionals, I presented Alex with a challenge: Do a 5' deep start, film it and send it to me, and I'd give her a handle. By October, it was a done deal. Her new goal for 2010 is to do it Long Line. I say, it isn't a problem... In fact, I predict, she'll fully achieve her goal and set and pass new one's before the season is over.

Alex is just one of many young skiers I've had the pleasure to work with, and is a bright talented future to our sport. She's energetic, polite, confident, and just a joy to work with and be around. Keep it up Alex, we'll be watching!

Some of Alex's accomplishments are:
Skiing by age 3
She once skied for 45 minutes straight
Did 180, yes 180 wake crossings on 2 skis, in one run.
Loves wakeboarding and snow skiing
Favorite footer's are: Joe Knapp, Laura Szwed and MOi....

KK